Bound By The Blues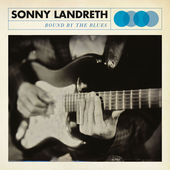 SONNY LANDRETH
Bound By The Blues
MASCOT

Since his 2003 album The Road We're On, Landreth has continually been asked when he was going to return to recording blues, a natural home for his relaxed vocal tone and phrasing, warm, valvey fretwork and unique slide guitar sound. Bound By The Blues, his twelfth album, has proven to be worth the wait, as well-worn covers, given new life by sympathetic interpretation, and original songs sit comfortably together.
His two takes on Elmore James illustrate this well. Monsters of the often over-complicated blues DNA both, sometimes tired after one too many abusive pub band shreddings, it's heart-warming to hear Landreth bring his own skills to bear on 'It Hurts Me Too' and 'Dust My Broom', just after Erja Lyytinen, on her The Sky Is Crying album added a unique female perspective and freshness to James's songs.
Rather than Elmore's anguish, Landreth's more relaxed blues-edged singing on 'It Hurts Me Too', is resigned and regretful, until the final verse climax where the desolation, almost inevitably, takes over. Signature warm Landreth slide tone and phrasing are perfect in these arrangements. He even adds a pleasing stutter to the 'Dust My Broom' lick, whilst Dave Ranson and Brian Brignac admirably retain the Broomdusters' driving feel on both.
Similarly, Robert Johnson's 'Walkin' Blues' is given a tasteful electric three piece makeover, and an upbeat feel enhanced by a beautifully-inventive but sympathetic bassline and finely-judged slack-skinned drumming, whilst Landreth's singing slide is perfectly-judged to the mood of the song. 'Key To The Highway' flows languidly, without losing a drop of the resigned emotion Sonny invests. His overdriven guitar solo hints at menace and his mastery of dynamics is evidenced by the passion of the final verse and closing crescendo.
And Sonny's self-penned material, as expected, can hold its head high in such company. The title track's tight, insistent, busy arrangement provides, at military pace, the ideal prop for a scintillating bottleneck workout. Referencing one's influences - "Sisters and brothers bound by the blues" - can often feel clunky and contrived but here it's heartfelt. Eschewing words, a further tribute is paid to Landreth's friend and mentor Johnny Winter in the tasteful and emotional instrumental 'Firebird Blues'. With heavy reverb fusing Winter's own harsher sound with the artist's own, you can't see the join, as Ranson and Brignac in the engine room provide sublime intuitive support.
'Where They Will' might be Jackson Browne on the other side of the speakers, as Landreth's "Let the blues take me where they will" confirms his rekindled love affair with the blues, which, he says, "has been a big part of my journey for the past 40-plus years. I wrote (it) about my relationship to blues – letting the music lead me to new sounds and improvisational passages, and introduce me to things I haven't played before."
Welcome back, Sonny Landreth. The wait's been worth it.
www.sonnylandreth.com
www.youtube.com/watch?v=pN_dlY63DlU
Date added: May 14, 2015
Share on Facebook
Go Back To The Previous Page