Live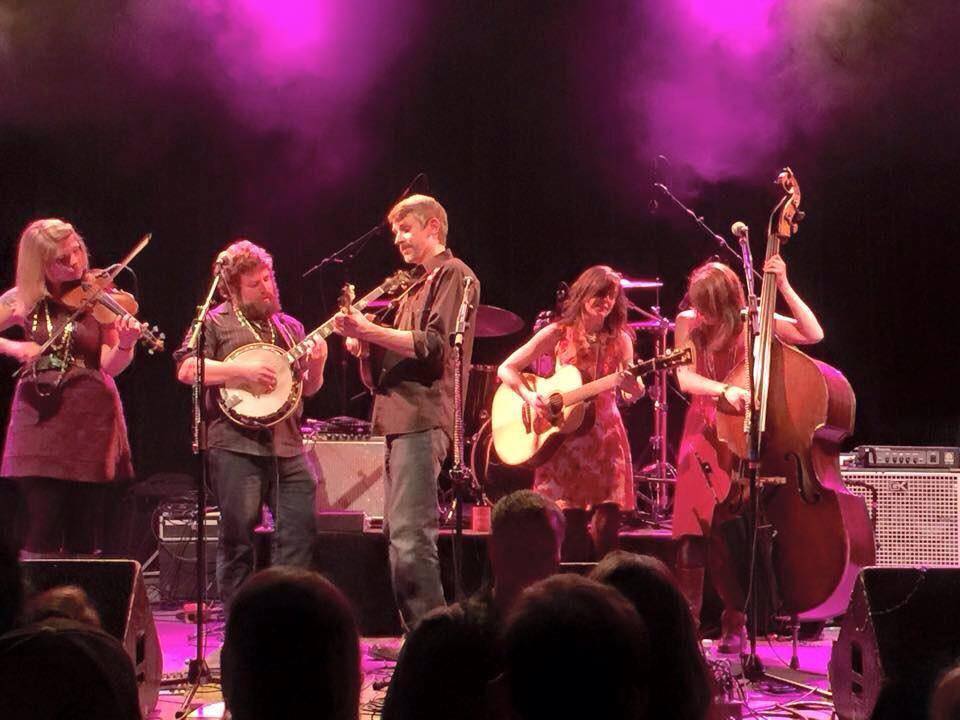 THE RAILSPLITTERS
Live
Glenbuchat Hall 30 May 2015

You'd never fit that 1970s Grateful Dead PA on Glenbuchat Hall's stage, and a Polyphonic Spree show here would probably see half the chorus lining the twisting avenue leading down to the Strathdon road. With five players, a voluminous double bass and all three vocal/instrument mics placed stage centre to capture every semi demi-quaver of The Railsplitters' set, space was tight. The constant movement of all five, jockeying for position to have their defiantly-unplugged instrumental solos, vocals and sumptuous harmonies picked up, added a delightful visual choreography to a finely-honed and rapturously-received set.
Their debut album drew reviews full of praise. The Faster It Goes, just released, is the focus for the current ambitious UK tour. Like its predecessor, it is grounded in bluegrass, but as fiddler Christine King explained, "Then it goes elsewhere, and we're not sure about the genre". And all the better for that.
Whilst the two albums provided the bulk of the material played, the band dug deep into tradition and called up Carter Family, Dillards and Buck Owens songs during the evening. Yet their own songs, mostly written by Dusty Rider ("a banjo superhero name" according to Christine), stood proudly, on equal footing with the country classics. Lauren Stovall, diminutive of frame but gigantic in voice, range and phrasing is a consummate vocal interpreter, with 'Met That Day', 'Boarding Pass' and the aching doo-wop of 'Tell Me' particular highlights. All but bassist Leslie Ziegler took turns at the main mic, but she contributed hugely to the vocal harmonies which added depth and further beauty to melodies that Glenbuchat took to its communal heart.
All five are players of the highest quality too. Orchestral teacher Leslie adds timbre, plucking and bowing sympathetic basslines, often owing as much to rock n roll and jazz as they do to bluegrass. Dusty's banjo is ever-present, whether adding percussive rhythm or fleet-fingered soloing to the overall sound, and mandolinist Peter Sharpe, responsible for The Faster It Goes instrumentals 'Estuary' and 'Goosetown', showers the set with intricate fills, trills and solos, often with a delicious bluesy edge. Christine is the new girl and the extra emotion her fiddle adds to The Faster It Goes has enhanced The Railsplitters' sound immeasurably, and whilst it is for her outstanding singing that Lauren is becoming renowned, she provides significant attack and depth on guitar.
They're good people too. Visibly delighted by Glenbuchat's appreciation, they are affable and humorous onstage and delight in each other's company, staying behind long after the final notes of second encore 'There Is A Time' to chat with an audience now being exposed to some of North America's finest roots acts in a tiny corner of North East Scotland.
Further tour dates:
Sun May 31: Universal Hall, Findhorn
Mon June 1: Traverse Theatre Bar, Edinburgh (with The Hot Seats)
Tues June 2: The Memorial Hall, Kilbarchan (double bill with The Hot Seats)
Wed June 3: Swaledale Festival, North Yorkshire
Thurs June 4: The Brewery Arts Centre, Kendal
Fri June 5: Jumpin Hot Club, Cluny 2, Newcastle-upon-Tyne
Sat June 6: St Cuthbert's Seahouses, Northumberland
Sun June 7: Gate to Southwell Festival, Notts
Mon June 8: The Corn Exchange, Devizes
Tues June 9: The Barn at Three Horse Shoes, Towersey
Wed June 10: The Garret Sessions, Queen's Head, Fyfield
Thurs June 11: The Green Note, Camden
Fri June 12: Royal Native Oyster Stores, Whitstable
Sat June 13: Exchange, Bristol
Sun June 14: The Live Room, Saltaire
Tues June 16: The Red Room, Cookstown
Thurs June 18: Raheen House Hotel, Clonmel, Co Tipperary
Fri June 19: Balor Arts, Ballybofey, Co Donegal
Sat June 20: Seamus Ennis Centre, Naul, Co Dublin
Sun June 21: The Green Room, Black Box, Belfast (2pm matinee)
www.therailsplitters.com
www.tinyurl.com/njslfum
Date added: May 31, 2015
Share on Facebook
Go Back To The Previous Page