Wild Heart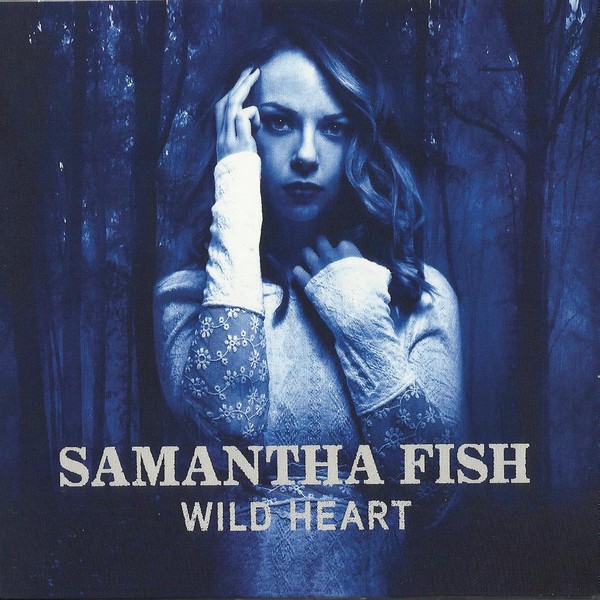 SAMANTHA FISH
Wild Heart
RUF RECORDS

Half the joy of receiving a review copy of a new release by a favourite artist is in using this as an opportunity to revisit previous albums, still stacked up in a dusty pile awaiting 'filing'. So it was when Wild Heart hit the doormat.
Reprises of Runaway (2011) and Black Wind Howlin' (2013) demonstrate that Samantha Fish has taken a frills-free and overtly honest blues route to date. No guitar histrionics, a minimum of studio trickery and her seemingly innate blues emotional intelligence translate into performances of considerable soul depth. The very real vocal maturity of Wild Heart shows that she has found her voice and it is a remarkable instrument, ranging from authentic unforced soulful edginess to relaxed country blues resignation.
From the album's overall sound, it's no surprise to discover that this is a close collaboration with Mississippi All-Stars' Luther Dickinson. Recorded in just a few days at three locations in Louisiana and Mississippi, much of Wild Heart has an organic feel, akin to the All-Stars' 2011 Keys To The Kingdom in its earthy wholesomeness. Describing the rurality of Zebra Ranch Studios as, "...out in the country, no cell service, no distractions...surrounded by nature and guitars", Samantha hints neatly at the suspected inspiration for much of the collection.
There's steady-rolling country blues weariness, regret and bleakness in 'Go Home', and the lazy roll of Charley Patton's 'Jim Lee Blues Pt 1', with Dickinson's perfectly-judged mandolin riffing and fills is timeless in execution and proof of Fish's sensitivity to the blues lineage.
'Blame It On The Moon' shows that the cover of Tom Petty's 'Louisiana Rain' on Runaway was, thankfully, not a one-off. It is both sprightly and soulful in its country-leaning arrangement and delivery, and features beautifully-sympathetic Dickinson lap steel. 'Lost Myself', an acoustic ballad of longing and regret, displays Fish's dramatic ability to get inside a song vocally, further demonstrated on 'I'm In Love With You', where rudimentary drums and rhythm are wholly sympathetic to the simplicity of Junior Kimbrough's words, allowing space for emotion-charged singing.
Of course, that signature Delaney Telecaster can't be kept in its case, and the desire for urgent riffing is sated in the valvey, slide-driven electric blues 'Turn It Up', and 'Highway's Holding Me Now', a vocal showcase for Fish and her backing singers.
But for full dramatic soulful tension, 'Place To Fall' is the keynote track, Shontelle Norman-Beatty and Risse Norman adding testifying harmonies to complement a larynx-shredding, yet intimate lead vocal. As an album highlight it has to bracketed with 'Show Me', its huge, loping, descending sledgehammer earworm riff, echoing 'Kashmir', John Lee Hooker, and Hat Fitz's 'Do Tell'. Over exemplary three-piece playing by Dominic Davis and Brady Blade, this is destined to be a huge live number.
Wild Heart is an album of beautiful maturity and diversity, with just about all of Samantha Fish's earlier promise fulfilled in 53 delicious minutes.

www.samanthafish.com
Date added: Jun 06, 2015
Share on Facebook
Go Back To The Previous Page