Chicago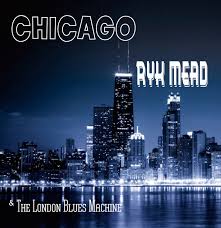 RYK MEAD & THE LONDON BLUES MACHINE
Chicago
SELF RELEASE

With Ryk Mead's considerable experience both in and beyond the blues scene, his dues have not only been paid, his blues bank account must be in healthy credit. He is emphatic in desisting from cliché and re-hash, proud to be innovative and fiercely independent, "You just want to hear it the same way, your way, and that's OK but isn't that also narrow? Maybe you could have a wider world if you open your mind a bit more?"
Some have accused The London Blues Machine of self-indulgence, especially in the live setting where they take pride in improvising around basic, agreed song structures. If that leads to inventiveness and maintains freshness, it is to be encouraged. It's where great bands have trail-blazed in the past, and those who crave musical predictability can always stay indoors and listen to the record.
So, Chicago features no re-treads of 'Rock Me Baby' or 'Goin' Down Slow', and the lasting impression is of a mature and diverse collection of sophisticated but gritty uptown blues fronted empathetically by Mead's expressive guttural vocals. With no song getting to the six-minute mark, accusations of studio self-indulgence can hardly be made and without over-long instrumental passages, beloved of some who should know better, interest is always maintained.
The diversity also serves to hold listener attention, whether Mead and his musicians are riffing funkily on 'Heartful Of Misery' and 'I'm Not Afraid', the latter a step-son of 'Born Under A Bad Sign', or feeling their way through the tension-filled, jazz-referencing 'Hurricane Blues'. Pleasing too is the take on Jeff Barry's 'Walking In The Sun', 4' 21" of loose, jerky soulful funk which would not be out of place on Dixie Chicken.
Elsewhere, 'Chicago' has a comforting buzzsaw edge and 'Put Away Your Blues' is a percussive single-coil shuffle with a melodic middle eight, unusual in the context, but a fine fit. There is room too, for the regretful 'Everyday', where guitar fills and Mead's melodic vocal delivery convey impressive and credible emotion, before Chicago closes by going back to the Delta, The London Blues Machine expertly electrifying 'Cyprus Grove', without losing the down-home feel of Skip James's original.
www.rykmead.co.uk
www.thelondonbluesmachine.co.uk
Date added: Jun 16, 2015
Share on Facebook
Go Back To The Previous Page