The Tunnels, Aberdeen, 22 June 2015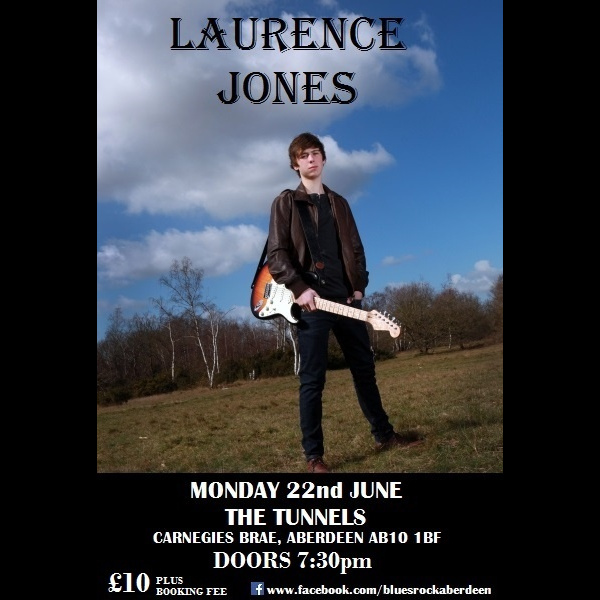 LAURENCE JONES
The Tunnels, Aberdeen, 22 June 2015
Live review

At 23, Laurence Jones has already been hailed as "the future of the blues". Described by bass player and producer Roger Inniss from The Tunnels stage as, "the young, handsome and talented one", the pace of his development over three albums in three years is staggering.
Jones's talent has never been in doubt, but through hard gigging and studio discipline he has added a dynamic vocal maturity to his abilities with guitar and pen. This was never more obvious at this well-attended Monday evening show than on 'Thunder In The Sky', the title track of his 2012 debut. An album highlight in its slow-burning atmospheric intensity, Jones now has the stage confidence and emotional vocal depth to match its forlorn message.
He has developed his stagecraft too. With Roger Inniss, an avuncular and benevolent foil, there's affectionate comic drama in their mutual encouragement and shadow boxing, and it's always heartening to see musicians enjoying themselves at work.
Inniss and drummer Miri Miettinen make a fine rhythm section, road-hardened and well-drilled in the tricky art of power trio accompaniment, never taking the easy options of over-playing or relying on volume for dynamics, content for the most part to sit in the groove, playing for the song and letting the frontman take the limelight.
Of course, Jones's instrumental prowess is his other ace card. Always powerful and inventive, overdriving humbuckers and single coils alike, guitar breaks never dip into the area of self-indulgence. In 'Evil', pick up output is turned down further and further from its tasteful Rory Gallagher trademark Fender harmonics, until only the microphonic acoustic notes are audible, before building the song back to its deserved, passionate climax.
Along the way, Jones references his heroes – BB King, Jimi Hendrix, Lead Belly, Jimmy Page and Ritchie Blackmore, covering 'The Thrill Is Gone', 'All Along The Watchtower' and 'Good Morning Blues', as well as slyly dropping in instantly-recognisable licks in tribute. If he continues to make the most of the opportunities that undoubtedly lie in his path, one of these days he may be bracketed with those legends.

http://www.laurencejonesmusic.com
https://www.facebook.com/bluesrockaberdeen
Date added: Jun 23, 2015
Share on Facebook
Go Back To The Previous Page