Keep Coming Back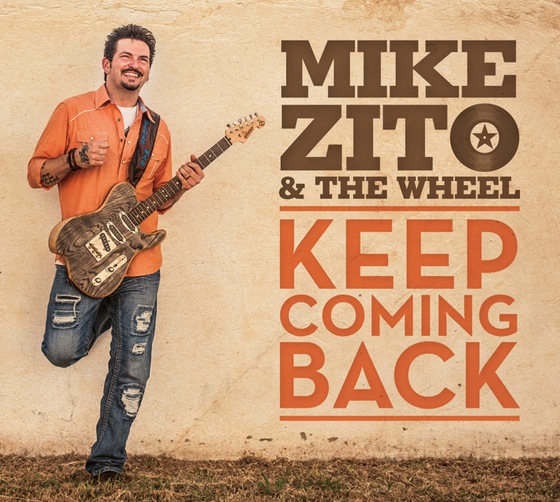 MIKE ZITO & THE WHEEL
Keep Coming Back
RUF RECORDS

"The most joyful album I've ever recorded" says the ever-active Mike Zito of Keep Coming Back.
In light of the punishing work schedule which has seen Zito turn in the masterful Gone To Texas and Songs From The Road with The Wheel, make a significant contribution to The Royal Southern Brotherhood, act as a guest sessioneer and producer on several recordings by his Ruf peers, and tour almost relentlessly, this is no throwaway boast.
Small wonder that he describes the process as joyful. There must be a fantastic sense of fulfilment in the origination, production and final release of an album that corrals all that is great about Mike Zito into twelve tracks, including ten originals/co-writes he describes as "the best collection of songs I've written yet"
Whatever the blues is, Zito travels the length and breadth of its accepted territory and elastic boundaries, meaning that Keep Coming Back has almost a Venn Diagram effect as genres, themes and emotions blend, blur and abut, maintaining listener interest and buy-in.
In light of his own well-documented former personal problems, it is gratifying to find that Keep Coming Back places songs of optimism, encouragement and spiritual fortitude in key places. Zito's slide drives the opening title track's boogie, before he stokes up a Berryesque chug in 'Keep Your Chin Up', and urges the grasping of opportunities, like he has had in learning lessons the hard way, in 'Get Busy Living'. The more mainstream rock of 'Girl From Liberty' is an infectious celebration of life.
Yet Zito has an estimable reflective soulful side, proof that for him, blues is not just about the six-string. Vocally sounding better than ever, 'Early In The Morning' and 'Lonely Heart' impress as he inhabits the song, but 'What's On Your Mind' emerges as the most intense singing on the album, Mike's pleading soul vocal full of regret as saxophonist Jimmy Carpenter embellishes the gospel-tinged delivery sympathetically and tastefully. He dons the hairshirt too, recognising his troubled past in the heartbreaking country-tinted semi-confessional 'I Was Drunk'.
It's no surprise to find a driving, churning 'Get Out Of Denver' aboard, as Zito and Bob Seger share a love of soul and blues-based rock, and 'Nothin' But The Truth' would feel at home on any Silver Bullet Band release. The closing 'Bootleg' even sees Zito find his inner Lee Dorsey on John Fogerty's loping, juddering New Orleans funk workout.
We are fortunate to be living in Mike Zito's time.
www.mikezito.com
Date added: Dec 01, 2015
Share on Facebook
Go Back To The Previous Page