Live at The Lemon Tree, Aberdeen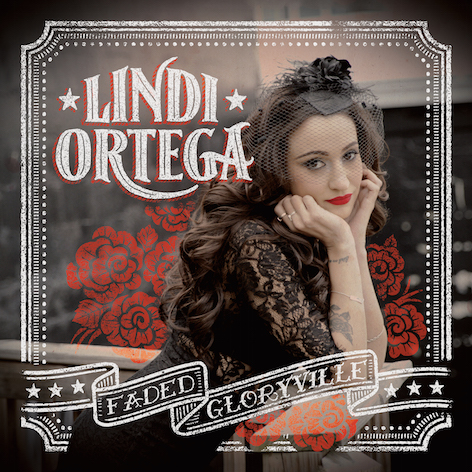 Lindi Ortega
Live at The Lemon Tree, Aberdeen
24 January 2016

Gracing Aberdeen on an extensive UK tour, Toronto's Lindi Ortega might be cast as inhabiting similar territory to Imelda May, tramping her little red boots in the country end of that marvellous territory where country and rockabilly clash, conflict and collaborate, but with her much more intimate sound adding tension to the live atmosphere.
By turns coquettish, anxious, melancholy, feisty, tender but always dramatic, Lindi's interpretive power sees her live inside the songs, starkly illustrated in the desolation of Sonny Bono's 'Bang Bang', the emotion on display coming close to that of Terry Reid in his 1968 take. This highlight was given additional emotive depth of 'Champagne' James Robertson's heavily-reverbed Telecaster. 'Ashes', not listed for inclusion in the set due to Lindi's throat infection, was performed as a request, its torch song heartbreak demonstrating why Lindi has been favourably compared with Loretta Lynn and even Hank Williams.
There was palpable anxiety and concern in 'Faded Gloryville', given a touching introduction explaining its genesis in Jeff Bridges' film Crazy Heart and describing the potential heartache in store for those unaware of the uncaring cruelty of the music business in its unfailing ability to shatter dreams.
'Half Moon' described as "a lullaby" was imbued with edgy intimacy, with Robertson, excellent throughout, adding sympathetic fills to season an outstanding performance.
But it wasn't all existential drama and downbeat heartache. The rockabilly rush of 'Run Amuck' and the pleading soulful bluesy groove of 'When You Ain't Home', served to energise the impressive Lemon Tree crowd and exemplified the unobtrusive song-perfect approach of rhythm section partners, Ryan Gavel on bass and drummer Noah Hungate.
Lindi and her boys demonstrated too the near impossibility of separating country and soul in their encore, stoking up the BPM's of Sam Cooke's 'Bring It On Home' to an almost Carribean groove, and to finish, an equally-soulful, heart-rending 'Cigarettes And Truckstops'.
At 35, Lindi Ortega is at the peak of her powers as a writer and performer. We were blessed to have her entertain us now, as bigger venues and greater recognition are surely on the horizon.
www.lindiortega.ca/
Date added: Jan 25, 2016
Share on Facebook
Go Back To The Previous Page