Live 'n' Kickin' At The Brasenose Arms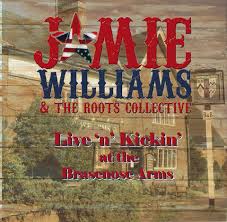 JAMIE WILLIAMS & THE ROOTS COLLECTIVE
Live 'n' Kickin' At The Brasenose Arms
Ashwill Records

The Brasenose Arms is well-known as its proximity to the Cropredy Festival site sees it corralled as a venue for that festival's Fringe. It is The Roots Collective's show from the 2015 Fringe that is captured here.
The over-arching impression of Live 'n' Kickin' is that of an ego-free band playing as a tight, well-drilled ensemble, with no excess aural fat and of players enjoying themselves as they power their way through their set of impressive and eclectic Jamie Williams songs.
'Peas In A Pod' opens, its infectious Cajun vibe well-received, and further hinted at on 'Feet On The Ground', whilst 'Stone Drunk' is carried on an energetic loping shuffle. Pausing for breath, the spacious 'Native American' is introduced as a "spaghetti western soundtrack" with Lizzie B's harmonies and Dave Milligan's heavily-reverbed guitar adding considerably to its haunting, almost eerie atmosphere. Whilst Williams is a powerful yet tasteful singer, Lizzie B is sleeve-credited for "vocals and rhythm guitar" and is perhaps featured too sparingly. Her vocal is an important component in setting the reflective mood of 'Reaching For The Stars' and it would be interesting to hear her front up a number or two.
And so it continues, 'Summertime In Georgia' displaying tasteful country rock subtleties and nuances with 'Voodoo Man' and 'Come Home', and the funky jerk of 'Natural Born Woman' revealing that The Roots Collective can morph pleasingly into growling rockers as the set pace demands. Where 'Dug Deep Found Steel' needs an angsty edge to the vocal, Williams delivers imperiously, finding emotional gravitas in fronting the insistent driving and the bubbling soul groove of 'Lifeline'.
If there's one drawback, it is harpist Nick Garner's rather lacklustre contribution. By largely restricting himself to adding fills, he contributes only a limited number of chordal licks which lack clarity, sharpness and authority, feeling almost apologetic at times. It is to his credit, however, that he does not overplay and saturate the mix, a common fault among harp players.
Overall, this is honest-to-goodness no-frills pub rock, the like of which spawned some top-notch 70s music and nights out, refusing to be categorised, and drawing down influence from country, blues, soul and rock. The Roots Collective's true-to-life, unadorned live act is captured, and by the band's own admission they are "bringing their party to you". And very successfully too.
www.jwroots.co.uk
Date added: Jan 28, 2016
Share on Facebook
Go Back To The Previous Page