Rough Guide To Americana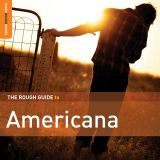 VARIOUS ARTISTS
Rough Guide To Americana
World Music Network

Trying to pin down the term Americana must be akin to attempting to define the universe, giving a couple of examples to illustrate your answer. Across its fourteen tracks, the latest in World Music Network's roots-promoting Rough Guide series provides a good road map in illustrating the diversity of Americana.
Drawing on traditional western genres, and the tasty areas where these overlap, clash, blend and create something new, this collection features representation from across this wide angle spectrum, visiting a lively bluegrass arrangement of Richard Thompson's now-ubiquitous '1952 Vincent Black Lightning', blue-edged string band country in Noah Gunderson's 'Boathouse' and Robbie Fulks's careworn 'I'll Trade Your Money For Wine'. Mary Gauthier, something of a mistress of the harrowing confessional song, imbues 'Oh Soul' with an almost hymnal feel over her folk finger-picking accompaniment.
On 'Wild Old Dog', Patty Griffin soulfully carries off this bluesy country ballad with heartfelt emotion, as does Reed Foehl on 'Caroline', channelling Willie Nelson over restrained rock guitars and Memphis-derived Hammond lines. There's further evidence of the plugged-in element in the low-key energy of the chorus to 'Milk Train', as Dawn McCarthy and Bonnie Prince Billy duet, and the juxtaposition of texture and timbre of female/male delivery lends impressive dynamics to Giant Sands' 'Man On A String'.
Where Detroit, Chicago and New York soul are about emotions, southern soul shares country's narrative denouement, and James McMurty gruffly spins a fine descriptive down-home backwoods tale on 'Copper Canteen', over a descending bassline and sympathetic strings. The skipping country-folk of 'Rambler' too has Jim White in story mode.
It's hard to fathom that there may be music lovers who need a guide to the chimera that is Americana, but if they exist, point them at this. Even for those steeped in Americana and its roots and branches, this is a fine sampler of acts on top of their game covering the outposts and boundaries of modern western music.
www.worldmusic.net
Date added: Jan 29, 2016
Share on Facebook
Go Back To The Previous Page