Luxury Hobo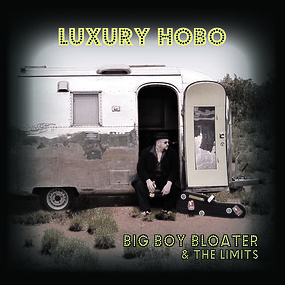 BIG BOY BLOATER & THE LIMITS
Luxury Hobo
Provogue/Mascot

Known to many for his Blues Magazine Show on Team Rock Radio (mysteriously removed from my DAB receiver), Big Boy's Waitsian gruff blues voice and Delta spirit makes a welcome return on Luxury Hobo. He's had a particularly hard time recently and is open about his depression-rooted breakdown. Luxury Hobo has the feel of its being some sort of cathartic therapy as he steps back and takes a wry, panoramic view of uncomfortable facets of life in the 21st century.

"I don't think of myself as a blues artist", he says, but there's little doubt that the roots of his output draw significant nourishment from Delta and Chicago sources, as blues structures, bottleneck guitars and rumbling rhythms are semi-permanent features across all nine tracks, from the high-octane boogie of 'Devils Not Angels' to 'Not Cool Man', a retaliatory rebuff to a grumpy roadie that The Limits once encountered.
Yet amid the zeitgeist cautions, Big Boy finds humour and has an eye for the absurd. This includes the dangers inherent in the YouTube generation's desire for instant fame in 'The Devil's Tail', and juxtaposing this, the Big Brother dystopia of blanket CCTV surveillance in 'I Got The Feeling Someone's Watching Me'. The jerky funk warning in the former is entwined with a evocative menacing swamp bottleneck figure and inventive Dan Edwards electric piano, whilst the paranoia of the latter is delivered by Big Boy's suitably nervy vocal and taut, brooding backing.
'It Came Out Of The Swamp' is another such highlight, its boogie overlaid with a horror B-movie instrumental figure, a threatening thematic soundtrack to what the artist describes as "attacking what you don't understand". Further on, the insistent riffing guitar of 'Robot Girlfriend' brims over with clever humour as the horrors of digital age dating are exposed.
Yet, for all the belligerent guitars and earthquake rhythms, The Limits' subtler side is probably even more impressive. 'Luxury Hobo Blues' has a loping groove reminiscent of Bob Seger, or of Mary Chapin Carpenter's 'I Got Lucky', with room for some gospel harmonies and tasteful country soul inflections. By Big Boy's own admission, 'All Things Considered' is "probably the best song on the album". It's hard to argue, as - in the spirit of Frankie Miller - Big Boy, Edwards, Matt Cowley and Steven Oats bring together blues, soul and country in a delicious "Stax vibe".
On the basis of "it's in him, and it's got to come out", however, Luxury Hobo concludes with the outrageous boogie and earworm slide riff of 'Not Cool Man', a splendid sign-off to a welcome return.

www.bigboybloater.com
Date added: Feb 05, 2016
Share on Facebook
Go Back To The Previous Page