Songs From The Road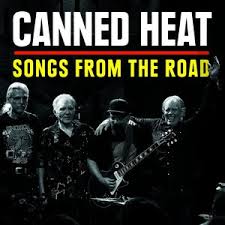 CANNED HEAT
Songs From The Road
RUF RECORDS

Harvey Mandel, Larry Taylor and Adolfo de la Parra remain constants from Canned Heat's global chart-topping days, and whilst the deaths of Al Wilson, Bob Hite and Henry Vestine tore at the soul of the band, they have continued to perform and record with a regularity and passion belying their years. Due to health issues, Mandel was replaced by JP Paulus on this 50th anniversary recording from Bonn's Harmonie club.
Songs From The Road is part of Ruf's superb value live CD/DVD series, and the Heat open with something short of an explosive salvo, with de la Parra taking lead vocal on a tasteful, considered 'On The Road Again', singer Dale Spalding concentrating on harp. He impresses throughout as a Delta saxophonist of great skill, with the ability to know when to back off from over-saturating the song.
Boogie has been, somewhat unfairly, the defining sound of Canned Heat, but 'Time Was' demonstrates that subtle interplay, restrained attack and a less-is-more dynamic are well within their capabilities. 'Oaxaca' allows the band to showcase its metrical mastery too, as Spalding draws beautiful harp over shifting time signatures. 'Cristo Redentor', "dedicated to Harvey Mandel's recovery", in Spalding's harp and Paulus's jazz-tinged guitar, gets close to the emotion of Donald Byrd's paradigmic take.
Of course, those evocative mid-tempo shuffles, Taylor and de la Parra squarely in the pocket, are a huge part of the Heat's lineage, and 'Don't Know Where She Went (She Split)', where the ever-versatile Taylor doubles on guitar, is endowed with an infectious swinging groove. 'Going Up The Country', de la Parra again emulating the late Owl's evocative high-pitched delivery, has lost none of the appeal it had when it charted in 1968. 'Chicken Shack Boogie' is faithful to the groove of Amos Milburn's original, its impish good humour preserved vocally and instrumentally.
And, in a steady roll to the finish, 'Amphetamine Annie', 'Rollin And Tumblin'', 'Let's Work Together' and 'Euro Boogie' see the Heat's mature audience almost moved to animation as the insistent infectious groove takes hold.
Lovingly preserved despite near-fatal setbacks, the players' longevity remarkable, this band is an institution.
www.cannedheatmusic.com
www.rufrecords.de
Date added: Feb 09, 2016
Share on Facebook
Go Back To The Previous Page