Live at The Tunnels, Aberdeen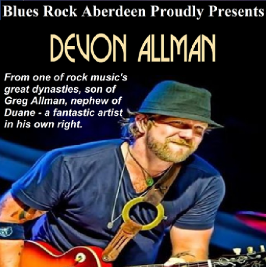 DEVON ALLMAN
Live at The Tunnels, Aberdeen
21 February 2016

It was something of a coup for Blues Rock Aberdeen to persuade an artist of the standing of Devon Allman to the city as part of his 2016 European tour, and to see The Tunnels filled to capacity is proof that if acts of this quality are brought north, fans will make the effort too. With dates for Laurence Jones, Stevie Nimmo and The Mentulls already arranged, Graham and Kenny deserve credit and support for their efforts. Everyone will hope that Graham has recovered from the illness that kept him away from a show he's been excited about since September.
Devon Allman's success has been slow-burning. Honeytribe was almost a well-kept secret, but it has been with The Royal Southern Brotherhood and under his own name that critical and sales success has come his way. Turquoise and his Chicago-recorded Ragged And Dirty are evidence of his deserved elevation to the upper bracket of players fusing blues, soul and rock. His time in the Brotherhood saw two splendid studio albums and a live recording released to critical hosannas.
The Tunnels show underlined the ease of performance that comes with confidence in material and ability. Pulling in material from across his career, and with Bobby Schneck Jr contributing beautiful Stratocaster chops as contrast to Allman's humbucker attack, the frontman sang with a passion suggesting that there's something genetic about that voice.
With the family name almost binding him tightly into the Southern Rock stable, he showed great versatility in moving between that sub-genre's component parts of blues, rock and soul. Allman even reprised his take on 'No Woman No Cry', allowing bassman Steve Duerst and Anthony Nanney on drums to display their reggae chops, and vocally charging the Trenchtown lament with soul of a subtly-different kind from the Marley original. With 'Back To You' and 'Left My Heart In Memphis' and The Spinners' 'I'll Be Around', taken from Ragged And Dirty, those credentials were amplified further.
A healthy helping of blues – 'Ragged And Dirty' and 'One Way Out' - in the encore, sandwiching a mischievous 'Stairway To Heaven' and snippets from 'Sweet Home Alabama', 'Jessica' and 'Whole Lotta Love', saw The Tunnels crowd bay its approval, although the band's enjoyment of a memorable evening was as palpable as those of us privileged to be on the business end of the speakers.
http://www.devonallmanband.com
Date added: Feb 25, 2016
Share on Facebook
Go Back To The Previous Page