Sittin' Heavy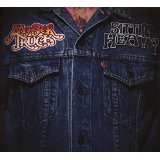 MONSTER TRUCK
Sittin' Heavy
Mascot/Provogue

Monster Truck's blues-based, pounding heavy rock hasn't been my sort of thing since about 1973, when I found greater fulfilment in exploring the blues roots of the acts that my early teen contemporaries and I enjoyed. So, discovering, and probing into the influences of Johnny Winter, Rory Gallagher and The Allman Brothers Band, among others, I took a different tack, whilst others remained true to heavy rock. That said, my Deep Purple and Humble Pie albums have been reliable, faithful friends and reference points.

Monster Truck, from Hamilton, Ontario, call up influences from the riff-based, rumbling rock that has never fallen out of favour or fashion, yet its energy, edge and spirit suggest that New York and UK punk have also made their mark. The band's tightness as a unit is impressive, and with organist Brandon Bliss, drummer Steve Kiely and guitarist Jeremy Wilderman all supporting bassman and lead singer Jon Harvey vocally, there are welcome soulful moments, reminiscent of the direction Deep Purple followed after David Coverdale and Glenn Hughes brought such sensibilities to temper the In Rock and Machine Head bombast. 'Black Forest' is such a bit of powerful but soulful, sensitive rock n roll, and although the bluesy grunge riffing of 'Another Man's Shoes' is representative of much of Sittin' Heavy, there is a sensitivity and almost lightness of touch when Wilderman adds to the drama in dropping out. Closing track 'Enjoy The Time' too, is a well-considered, almost restrained mid-paced rocker, showcasing Harvey as a singer capable of much more than the leather-larynxed delivery associated with this branch of rock n roll, and Wilderman displays his best playing on the album.

For those for whom filth-edged guitar and in-unison riffing are among life's staples, there is a generous feast here though, with 'Why Are You Not Rocking?', 'Things Get Better' and 'The Enforcer' greasy, grungy, cocksure and loud, attractive and enjoyable even to this lapsed rocker, a reminder that stereotyping is unfair and a fix of heavy rock once in a while is no bad thing.
http://ilovemonstertruck.com/
https://www.youtube.com/watch?v=Zdeo-i6uw5g
Date added: Mar 07, 2016
Share on Facebook
Go Back To The Previous Page