Heal My Soul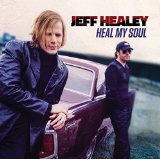 JEFF HEALEY
Heal My Soul
Mascot/Provogue

It was exactly eight years ago last week (2 March) that Jeff Healey's death sent the blues world into mourning. His departure was all the harder to take, since in the true spirit of the blues, he demonstrated inspiring fortitude in dealing with the hand dealt to him, blind since before his first birthday and almost pre-destined to be taken by the cancer that had seen his eyes removed.

Heal My Soul comprises unreleased tracks that the Jeff Healey Estate has "tracked down...and mixed and mastered from the ground up" and whilst the quality varies, there are some gems here, particularly the Experience-influenced psych-blues of 'Please', 'Moodswing' and 'Temptation', the latter of which pairs the evocative Univibe sound with a menacing Delta feel.

Pleasing too are Healey's ventures into blues-based hard rock. 'Daze Of The Night' and 'Love In Her Eyes' are each perfect combinations of abandoned riffing, edgy singing, with treble-boosted Ritchie Blackmore and Brian Robertson echoes in Healey's always-inventive, searing guitarwork.

Yet, there was always a more introspective, soulful, almost wistful side to Jeff's output. The resigned melancholia of Richard Thompson's 'I Misunderstood' is well-matched to Healey's natural vocal delivery and the acoustic 'Baby Blue' has an ELO-like rising chorus amid throaty, careworn Healey verses and emotion-laden guitar fills. 'All The Saints' is a moving ballad of loss and regret, its simplicity of arrangement featuring no electric instruments at all.
Add in 'Kiss The Ground', a soulful festival rock ballad which would have been a Healey live highlight, and the tasteful but semi-frenzied twelve-bar guitar-fest of 'Put The Shoe On The Other Foot', and this is a fine addition to the much-missed Jeff Healey's outstanding life's work.
http://jeffhealey.com/
http://www.mascotlabelgroup.com/
Date added: Mar 07, 2016
Share on Facebook
Go Back To The Previous Page