Under The Cover Of Lightness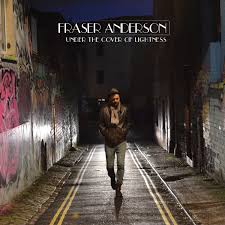 FRASER ANDERSON
Under The Cover Of Lightness
Membran

Anderson's 2013 album Little Glass Box, almost universally lauded, cemented his reputation as a top-class songwriter, drawing on folk, jazz and blues. Eliciting favourable comparisons with the late John Martyn, its earthy, organic acoustic construction allowed Anderson to create sumptuous vocal melodies around chord voicings of guitar and piano. Here we have more of the same, but he has taken digital technology in his stride, and beats, loops and electronic sounds are employed to startling effect.

The languid blue jazz-laden folk of 'Simple Guidance', prompted by strings, brass and intricate Chris Agnew double bass, kicks off and sets the standard for the album, as, singing across his range to its limits, Anderson expertly winds the vocal melody around the mix. Mid-album, the jazz-blues feel of 'The Wind And The Rain' heads into Celtic soul territory with bodhran-like percussion, fiddle, flute and Hammond flitting in and out as Anderson uses his falsetto to articulate emotion. 'Please Let This Go' is a low-key articulation of loss, yet Fraser sounds as soulful as the late Jim Dewar.

'Beautiful Eyes' sees him trade verses with Bex Baxter, in a dual protagonist and observer narrative, Ali Ferguson's relaxed ambient wash providing an intimate atmospheric backdrop, and whilst Agnew's bass and Ferguson's guitar and electronics give 'Feel' pulse, the anxiety of the repeated lyric "I don't care anymore" is enhanced by the band's menacing light and shade contribution, and the harmonica/guitar face-off adds a skewed blues feel. The desolate regret of 'Five Days is summarised economically in "it's only been five days and I'm barely holding on", with blue trombone, harmonica and clarinet making near tangible the singer's heartbreak.
The growling synths and crackling percussive backing to 'Go On Wide Part 1' suggest almost aggressive anxiety, and Fraser's echoey vocal drips with Caledonian resignation, yet 'Part 2' of the same song gently muses on life's transience with birdsong, guitar and brass unobtrusively providing both instrumental bed and melodic prompting. Even finding room to rap gently and autobiographically on 'With You All', further soul-baring is evident atop almost-imperceptible instrumentation in the broken-hearted regret-filled lament 'Crying From My Heart', and on 'Rising Sons', where a series of wordless "oohs" provide the melodic hook, proof that emotion does not always come from words alone.
Under The Cover Of Lightness is an outstanding combination of top-class writing, finely-tooled arrangements, stellar instrumental and vocal performances and a living, breathing in-the-room-with-us production.
The album is released digitally on 25 March 2016 and the CD is released on 29 April 2016.
www.fraseranderson.com
Date added: Mar 24, 2016
Share on Facebook
Go Back To The Previous Page