Songs From The Road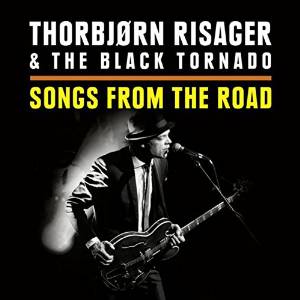 Thorbjørn Risager & The Black Tornado
Songs From The Road
Ruf Records

Augmented by a horn section and soulful backing chorus, Risager's Black Tornado make a huge sound without having to notch up the gain and threaten audience members' hearing. Recorded and filmed at Harmonie, Bonn a year ago, Songs From The Road follows the now-familiar Ruf live release format, CD and DVD in a high value double-for-single priced package.

Those acquainted with Risager's outstanding Too Many Roads will delight in hearing and seeing nine of its twelve tracks given extra life under the stage lights. The title track's innate drive, and sublime mix of Delta howl and Sunday morning gospel are especially supercharged by Peter Skjerning's growling bottleneck and Lisa Lystam and Ida Bang's harmonising. 'Long Forgotten Track' in its studio version is an album highlight. Live, with the added ambient theatre atmosphere, it even more resembles a soundtrack in search of an epic Southern movie.

Worthy of specific mention too is 'Straight And Narrow Line', an outstanding swing boogie featuring the jaw-dropping talents of pianist Emil Balsgaard and saxman Hans Nybo, a scintillating tour de force that most acts would reserve as an exhausting climactic finale. Here, it's fourth on the setlist, illustrating Risager's mastery of live show pacing and dynamics, its being followed immediately by the soulful of 'Too Many 'Roads' and the aching, atmospheric intensity of 'China Gate' before the Hookerish 'Rock 'N' Roll Ride' powers the ascent to another peak. Risager and his team do this again and again, with 'Let The Good Times Roll' reserved as a brass-blazing, fret-melting finale.

The Black Tornado display individual virtuosity and a collective tightness that is only possible through single-minded discipline and unswerving confidence. Yet both audibly and visually, there is an all-pervading feeling of spontaneity and onstage enjoyment, of delight in bringing joy to an audience receptive to an outstanding performance.
There can be few better acts touring at the moment.
www.risager.info
www.rufrecords.de
Date added: Apr 12, 2016
Share on Facebook
Go Back To The Previous Page