Dark Desert Night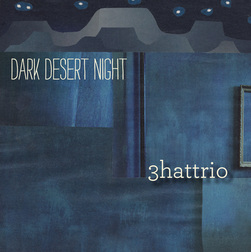 3hattrio
Dark Desert Night
Okehdokee Records

3hattrio's aim is to create "American Desert Music" described as "something that is truly American but also new" to evoke the spirit of their southern Utah desert homeland. Armed with banjo, guitar, fiddle, upright bass and percussion, 3hattrio test the limits of these wholesome acoustic instruments, exploring musical territories beyond traditional folk and bluegrass trails in their quest.
It makes for interesting and fulfilling listening as the mellow Stonesy acoustic blues of 'Off The Map' and 'Get Off The Bus' sit side by side with the traditional 'Carry Me Away', which, if not a murder ballad, is certainly a ballad of deliberate disablement. 'Nothing' is noteworthy for its geometric-sounding intervals arrangement on which a traditional melody sits, almost biblical in content and delivery.
There are moment of delightful melodic beauty, the pastoral instrumental cadences introducing the blues 'Get Back Home' also adding flavour to the intense cowboy drama 'Left Texas'. Where the desert does make its present felt, however, is in the brooding rumble of 'Sand Storm', featuring Greg Istock's virtuoso bass shredding, Hal Cannon's atmospheric, evocative western guitar and careworn vocal, including a scat section, all decorated with Eli Wrankle's heart-tugging Desire-era bluesy fiddle licks.

www.3hattrio.com
Date added: Apr 13, 2016
Share on Facebook
Go Back To The Previous Page