Cities In Blue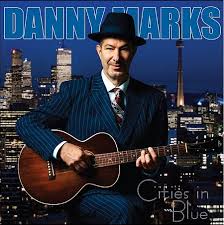 DANNY MARKS
Cities In Blue
No label details

It's a fine and novel concept to trace the history and journey of blues as it developed from Delta field music, flavouring its stark, insistent early rawness with influences from church, mountain and radio to examine its contemporary diversity. Danny Marks has made a considerable effort in seeing through his vision, with form as vital as content, in that he has composed ten new songs, in the style of whichever particular blues offshoot and development he seeks to illustrate.
Kicking off with the jazzy shuffle of 'Houston To LA' and the country blues 'Belt Line Blues', there is a pleasing authenticity about Marks's paeans to blues history, especially the sharp-edged bottleneck in the latter. But he hits his stride with 'Memphis Got Soul', adding Mississippi grit, genuine McLemore Avenue/Hi grease, testifying backing vocals and horns over a re-purposed 'In The Midnight Hour' bassline. 'Blues Came To Chicago' also captures well the electrified sizzle and gruff aggression that characterised the heyday of south side blues dens.
More urban-sophisticated is 'Hey, New York Town!', founded on funk rhythms, and even including a short rap in its much more claustrophobic and brooding minor key ambience.
If there is a minor criticism, it is for Marks's literal references in 'Kansas City Shout' and 'Memphis Got Soul' especially, where lists of the musical giants of the locations are given. This has already been overdone elsewhere in tribute songs, and can come across as a lightweight method of writing meaningful lyrics.
Finishing things off, is the atmospheric 'Land Where Blues Began' all pounding rhythm and edgy slide, admirably articulating the need to re-visit the cradle of the blues, presumably before Clarksdale and Rolling Fork become commercial tourist nightmares and authenticity and rural simplicity are destroyed forever.

www.dannym.com
Date added: Apr 16, 2016
Share on Facebook
Go Back To The Previous Page