Renaissance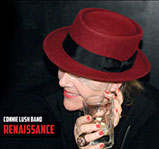 CONNIE LUSH BAND
Renaissance
OWN LABEL

Feted by BB King, multi award-winner and held in high esteem by audiences everywhere, Connie Lush's return to recording action after an injury-enforced absence sees her in the company of a new band. Stage and domestic partner Terry Harris continues on bass, with new boys Roy Martin on drums and guitarist Steve Wright completing the line-up. All four are credited with writing the bulk of Renaissance's ten tracks, recorded under Harris's supervision as producer, in his Snowdonia studio.
There's barely a weakness on Renaissance, an album of sensitive, restrained soulful blues. Nothing is rushed, neither is anything overplayed or over-wrought, a sure sign that the contents have been written, rehearsed and arranged meticulously to ensure the excellence of the final product.
From the bleak Delta guitar figure of 'Lonely Boy', imbued with anxiety and foreboding, to the closing track 'I Can't Make You Love Me', empty but for Wright's suspense-laden, fractured arpeggio jazz guitar, every word and nuance counts as Connie lives every song, defining "blue". 'Shine A Light' is an exemplary band arrangement fusing funk jazz and blues, whilst 'Give Me A Minute' has a jazz feel to a vocal teetering atop a clipped jangly guitar riff and solid rhythm support.
Along the way, 'Don't Cry For Me' and 'Blue Night' are attention-grabbing sophisticated blue-eyed soul, and 'Crying Won't Help You', all mellow minor key regret, has Wright offering beautifully sympathetic guitar in intuitive support, with Harris applying melodic, inventive bass in its chorus. The bassman's simple root and fifth lines, allied to a sinuous guitar figure, brings out the country element of 'I Don't Say Goodbye', and 'Falling Down Like Rain', its bass intro all taut funk, recalls Free's soulful feel.

There's even room for a bit of Radio 2-friendly Starship-esque rock in 'Blame (It All On Me)' its pedal bass and chugging guitar as playlist-friendly as you'll hear this side of Paulo Nutini.
Renaissance is impressive in its held-back energy, all the better for its power being channelled into emotion rather than unsubtle volume or instrumental pyrotechnics.

www.connielush.com
Date added: Apr 28, 2016
Share on Facebook
Go Back To The Previous Page