West Of Flushing South Of Frisco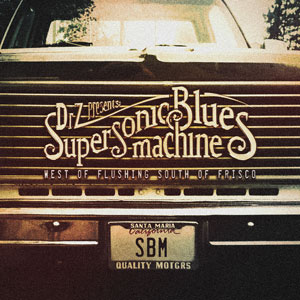 THE SUPERSONIC BLUES MACHINE
West Of Flushing South Of Frisco
Mascot/Provogue

Even without the startling talents of the guests The Supersonic Blues Machine has gathered to enhance West Of Flushing South Of Frisco, it would be a fine collection.
Lance Lopez, Fabrizio Grossi and Kenny Aronoff's intuitive approach is obvious from the off in the contrasts of 'Miracle Man', a country blues hot-rodded easily and naturally into a full rock workout by Grossi's precise, supporting chromatic basslines, and 'I Ain't Fallin' Again', Lopez's rap-lite introduction giving way to an Experience vibe driven by dexterity of Grossi's spiralling bass figure. Indeed, producer Grossi's inventive bass playing throughout is a considerable strength for the trio, although his imaginative approach still sees him firmly in the pocket with drummer Aronoff.
No guest is needed on 'Let It Be' either. This is Lopez's highlight, the frontman expertly managing the in-song dynamics, seamlessly throwing in precise heavy riffing to a ballad sung with sensitivity and passion.
Where guest players are brought in, West Of Flushing South Of Frisco soars even further. Billy Gibbons, not surprisingly, leads the Tres Hombres of the Machine into pulsating boogie territory on 'Running Whiskey' and its 'Whiskey Time' reprise, and Walter Trout's squealing fills underline the emotion of 'I Can't Take It No More'.
Duelling with Lopez, Robben Ford's evocative warm melodic tones and sustain soften and enhance 'Let's Call It A Day', whilst the master of eclectics Warren Haynes effortlessly brings his rich Southern fretboard subtlety to 'Remedy'.
Beyond the core trio and the stellar guests, the promo copy of West Of Flushing South Of Memphis is light on credits for other members of the supporting cast. It's not possible, therefore, to credit by name the excellent blues harp playing that flits in and out of the mix, or the gospel backing chorus and Hammond player who add soulful depth to a triumphant Supersonic Blues Machine effort.
www.supersonicblues.com
Date added: Jun 07, 2016
Share on Facebook
Go Back To The Previous Page