Shake Your Faith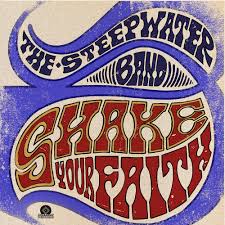 THE STEEPWATER BAND
Shake Your Faith
Diamond Day Records

With their Chicago lineage, one might expect The Steepwater Band to draw from the fathoms-deep blues well of that legendary music city. But whilst Jeff Massey's guitar parts have a raw warm blues edge, and his bottleneck playing is beautifully-pitched, emotive and precise, this quartet, with co-producer Jim Wirt contributing keyboards and backing vocals, is more than a blues act.
Shake Your Faith was recorded in Cleveland in a dozen intense days, introducing additional member Eric Saylors to the studio, and that hot-house creativity is almost audible in the freshness and tension of the album's eleven tracks. Massey's vocals are soulful and anxious, careworn and emotional, an ideal voice to front an impressive collection.
The opening title track harnesses expertly the eclectic components - soul, country, rock and blues – adding Jim Wirt's gospel vocal soupcon in nearly six minutes of superlative southern rock, revisited in slightly-choppier mode in 'Jealous Of Your Way'. 'Gone Goodbye' too, grooves on a funk riff punctuating an energetic southern workout, and with Saylors' lap steel and mandolin adding colour, 'I Will Never Know' evokes beautifully that 1970s Capricorn label country rock groove.

Shuffling nimbly into bluesier territory, 'Ain't Got Love', well-judged and histrionics-free, crackles with an edgy, fractured, funk-edged feel, and in 'Last Second Chance' Tod Bowers' bass leads and drives a spacious and echoey blues full of dynamics, which, even at 7'45", never overstays its welcome.
But among these classic American sounds, there are some pleasing and surprising diversions. The melody and delivery of 'Be As It May', with a scintillating Massey slide insert, somehow recalls the best of UK indie and the ballad 'Bring On The Love' is spacey and almost psychedelic with the feel of a Sgt Pepper outtake.
My friend Graham Robertson who introduced me to The Steepwater Band insists that they are in their true habitat onstage, and 2013's Live & Humble bears this out. Witnessing the contents of Shake Your Faith live is a treat in store.

www.steepwater.com
Date added: Jun 16, 2016
Share on Facebook
Go Back To The Previous Page