Swingin' In The Swamp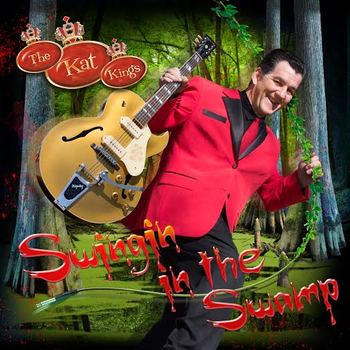 THE KAT KINGS
Swingin' In The Swamp
Own label

Any album described as "following the traditions of rock n roll, country and rhythm & blues" is almost bound to lead to frantic rockabilly and swing, and whilst Swingin' In The Swamp is a terrific rhythm-heavy dance record, The Kat Kings display admirable and skilful versatility in delivering a dozen good-time, and more thoughtful, tracks .
Where Swingin' In The Swamp rocks out McQuade and his cast of stellar Canadian players, like a slightly more polite and house-trained Stray Cats, hit a groove that's a call to feet to those infected with the dance habit. Here there are twelve bars, eight bars, percussive slap bass, driving rhythms, good-time lyrics and Scotty Moore licks played on guitars the size of Louisiana.
Although the dance groove is incessant, a bit of differentiation is applied, and where 'When I Say Jump', 'B-Flat Kat' and 'Ridin' In Style' are flat-out slap bass-propelled rockers, 'Poppin' At The Party' is slinkier, and 'I Work For You' recalls Taj Mahal in the relaxed laziness of its boogie.
When there's respite from jitterbugging, slipping and sliding, 'Before I Found Him', introduced and underpinned by a bluesy guitar figure, is a moving jailhouse moan of high quality, the Hammond-led 'I'm Just A Shadow' aches soulfully, and 'It Came From The Swamp' broods, menaces and rumbles suggesting that there IS something nasty under there. There's also a sense of menace about 'I Got The Fuse', but this is of a far more lustful hormonal kind, the tag-line, "you're dynamite and I got the fuse" self-explanatory.
And before the Kats boot things back up to a juddering, climactic finish in 'Baby You Can't Drink, they pave the way with 'Late Night Thing' a Latin dance boogie of the kind mastered by Chuck Berry, and a tip of the hat to my man Jimmy Reed's shuffling, slurring magnificence in 'Til It Feels Alright'.
www.thekatkings.com
Date added: Jun 21, 2016
Share on Facebook
Go Back To The Previous Page