From The Skein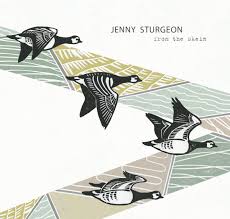 JENNY STURGEON
From The Skein
Tamarch Records

Those whose interest was piqued by her 2014 EP Source to Sea, and by her contributions to a range of local roots recordings will take delight in From The Skein, the first full album from Alford writer and performer Jenny Sturgeon.
As befits her Donside background, the dozen well-realised songs comprising From The Skein, draw on traditional structures and melodies, and the myths, legends and fascinating heritage of NE Scotland. Natural imagery abounds, adding to the atmosphere of chilling cold in 'Raven', where the chorus has the melodic effect of a sea shanty, and Jenny's joy in seeing nature stand its ground amid industrial encroachment is obvious in 'Harbour Masters'.
She is unafraid, as the occasion demands, to eschew rhyme and write in blank verse, enhancing the dramatic supernatural narrative 'Maiden Stone', and her keen eye for such folklore allows her imagination to write what is a mini screenplay in 'The Honours'. Intuitive vocal phrasing gives credibility to her lyrics as the singer envelops herself in each song, be it folk tale or revelation of personal feelings.
A word of praise too for the airy and imaginative arrangements and production, courtesy of a who's-who of the cream of two generations of the area's musicians, fully acknowledged on the sleeve. Worthy of special mention are Fraser Fifield's gravity-defying whistle fills and solo on 'Maiden Stone' and Davy Cattanach's inventive drumming which drives 'Raven', as precise as anything digitally programmable, but with an urgent, organic snare snap.
www.jennysturgeonmusic.com
Date added: Jun 29, 2016
Share on Facebook
Go Back To The Previous Page