Slow Burn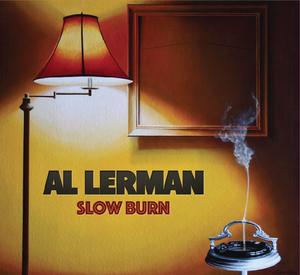 AL LERMAN
Slow Burn
Own label

Amid the cacophony of loud guitars, and over-done blues harp that can give the blues a bad name, it's always refreshing to stumble upon a laid-back journeyman who sings and plays for the song and not personal adulation. From Havelock, Toronto, and with forty years of commitment on the clock, comes one such bluesman, Al Lerman.
Slow Burn lives up to its name. It's instantly-lovable from the swinging gospel-overtoned opening track 'Don't Push Your Mess on Me', and over the eleven succeeding tracks, a picture of a hard-working musician in love with his craft, emerges. As a collection it radiates wholesomeness and veracity, and seamlessly references those ragged pockets and subtly-diverse shades of blues which have influenced him.
The slinky late-night club feel of 'It Takes Me All Night Long' sees Al muse resignedly and self-effacingly on the weakness of the flesh when the spirit is willing. Yet, in 'Tattoo Like You', it's almost possible to feel the hormonal heat of the longing, its swampy Mississippi brooding emphasised menacingly by his echoey harp.
Staying rooted in the South, 'Now That Your Man's Gone' struts with an authentic New Orleans vibe accented sympathetically by Lance Anderson's piano and there's an infectious chugging swampiness to 'Any Way You Want'. Al has a feel for languid country soul too, and 'Younger Than Me' is rich in both church and cottonfield emotion, delicious guitar and piano fills precisely placed to extract maximum soul from a standout track.
Leaving his touch-perfect players for a solo farewell, Al offers 'Slow Burn' to close. It captures perfectly the sound of the Delta relocated to a Southside nightclub with Lerman's guitar and harp alone rendering any pleading words unnecessary, his mastery of urban blues already proven in 'Totally Out Of Wack' where that Wolf-Dixon-Sumlin feel is nailed, and in the delightful Chicago shuffle arrangement given to Scrapper Blackwell's oft-abused 'Kokomo'.
www.allermanmusic.com
Date added: Jul 01, 2016
Share on Facebook
Go Back To The Previous Page